Dec 22 2017
Technological developments have shown rapid progress. The developers continue to race to create a more comfortable and sophisticated world. Every technological growth is associated with human needs. Every aspect of life requires technology to facilitate the activities undertaken. Try to look around you, is there still something you do without technology interference?
The busyness of people to work encourages rapid and efficient technology. One aspect that is currently very developed in the marketplace. The concept of this market is straightforward for everyone to shop without having to come to the store. Then, what if you went to the same store online and offline at once? To facilitate the identification of customers then a store requires an end-to-end technology. The technology can be realized using a blockchain sensor system and real-time sensors.
The Nucleus is a platform that can realize an integration between online and offline systems. The incorporation of the Internet of Thing (IoT) sensor with blockchain can provide solutions that can identify the visitor and the appropriate user data on the network. Nucleus offers renewable technology without using WiFi, RFID, Bluetooth, and face recognition technology in its operation.
Beginning of its development, Nucleus has gained much support from big investors. That because this platform will make the gap between offline and online retail world. With renewable technology, it is believed this platform can provide many conveniences for its users. The development of this technology needs to have full support for the realization of an integrated world.
Integration from around the world allows every activity to be done using digital technology. That will make all of the human activity ease to do. The integration world enables a new ecosystem to work together in the development of more sophisticated technology for a better future.
The Main Goal of Nucleus Development
Retail is one of the very fast growing business today. By prioritizing excellent service to every customer, the retail company also provides a full range of primary human needs products. Although the online market has been cultivating the virtual world, the existence of the retail remains brilliant among the public.
Every business needs a system update so that its company can continue. As one way for businesses to exist is to keep abreast of technological developments. End-to-end technology solutions have come to be a solution for data acquisition and data providers that previously could not be reached by retailers and businesses. Through blockchain and retail sensor technology, end-to-end technology can be applied in every retail store.
Nucleus team came to develop an end-to-end solution that was established at Harvard University three years ago. Nucleus.vision is a platform that will provide streamlined efficiency and effectiveness of data that will be presented to retailers and other 'brick and mortar' businesses. The sensor used is the development of blockchain technology and real-time sensors. There are currently about 19 IoT sensors successfully placed on ten retail companies. IoT sensor technology offered can support valuable data networks for companies such as visitor identificationNucleus team is present to develop end-to-end solutions established at Harvard University three years ago. Nucleus.vision is a platform that will provide streamlined efficiency and effectiveness of data that will be provided to retailers and other 'brick and mortar' businesses. The sensor used is the development of blockchain technology and real-time sensors. There are currently about 19 IoT sensors successfully placed on ten retail companies. IoT sensor technology offered can support valuable data networks for businesses such as visitor identification.
One of Nucleus's long-term goals is to be a bridge between online retail and offline retail. During this time online and offline retail as two worlds very different and can not be integrated. Platform development has gained support from top investors such as Reliance Capital and Draper Team. To realize a platform that fits the purpose, then the platform requires some technology. Partnerships with technology providers have also been done such as Reliance Communications, Idea Cellular, and Vodafone.
The Technology That Uses Developing Nucleus Platform
Every technology used in the construction of the Nucleus platform has an important role. Every technique must work together to create a secure platform for retail future in the future. The development of Nucleus platform consists of a combination of four main components namely ORBIT, ION, NEURON, and nCash.
The ION sensor acts as a proprietary sensor technology. This sensor network is owned by Nucleus to facilitate customer identification process. ION network can identify the sensory temperature, acceleration, sound, and pressure around the sensor location. Using ION sensors can allow retailers to get data about data stones and mortar from every customer visiting the store.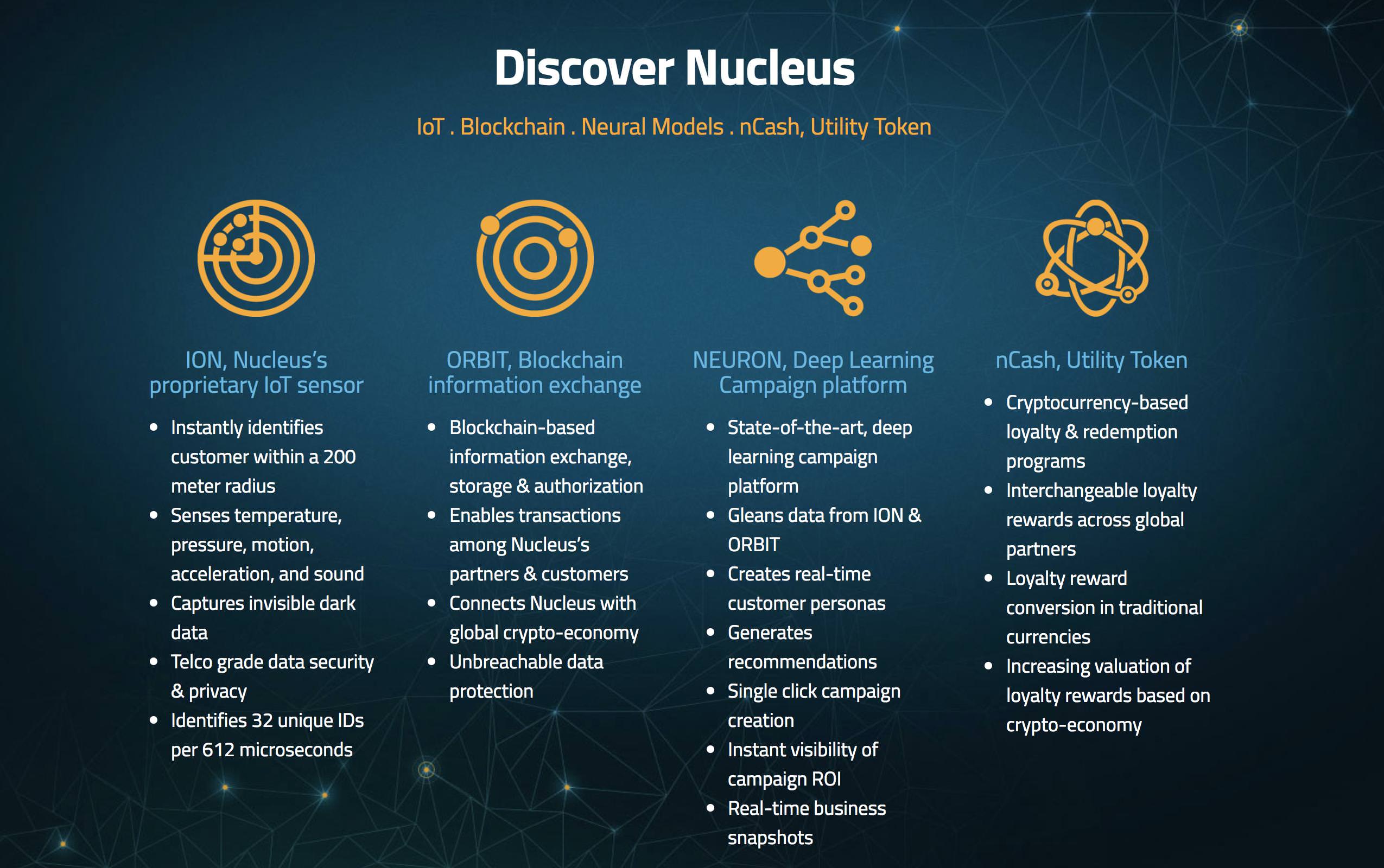 In a digital platform, the most important thing is about authorization and security. The component used for approval and data is the blockchain orbit. The use of blockchain is considered accurate in managing customer identity. Any data and transactions will be safe to do in the Nucleus ecosystem.
The crypto used as a token-based payment is nCash. The use of nCash has a goal as a platform and currency reward system for activating transfers. nCash can be redeemed on any network at retailers incorporated in Nucleus networks. As a link between retailers and customers then used Neuron. As the Nucleus intelligence platform, Neuron works as a cutting-edge analytical engine. Utilization of time and opportunity when a receptive customer is an advantage of Neuron technology.
Four components of technology used in the platform are the technology of choice that is considered to be complementary and cooperate. Platform development will not work as planned if one component is missed. Therefore, in the construction of a platform must provide innovation and solutions that become solutions in the future.
Internet of Thing (IoT) Technology to Catch The World Integration
Any information obtained can be utilized in real-time security that every place can be reached. Sensors can be used to identify attackers. Micropayments can be used in secure access token nCash within the ecosystem. With the use of sensors, it is possible to exchange data through blockchain to assist in the realization of a safe and comfortable ecosystem.
The Internet of Things (IoT) has been applied in every life access like in buildings, houses, cars, telephone and everybody's body. In the process of its implementation will make the company closer to each customer. Nucleus will revolutionize retail using a fission of the security industry. The framework composed of Nucleus includes homes, cars, cities, and water. The platform will have a massive application for intelligent people and towns, transportation, home monitoring, health care, and agriculture.
The construction of the IoT concept by Nucleus was the first to be performed in the world. IoT in Nucleus provides an opportunity for every retail brand to build a store by focusing on the customer experience recorded in the online network.
Blockchain sensors used in the platform allow for an intelligent data analysis to create automated solutions of customer loyalty. With Nucleus, retailers can quickly get information about their customers. That allows an estimated customer visit and the path the customer takes to visit the store. Thus, in the future, developed systems can predict customer behavior to create higher levels of customer satisfaction.
The detailed shopping experience will be enhanced with the use of the Nucleus network. That will make connecting online and offline world in retail business. The improved shopping experience is also one of the things that concern the Nucleus platform. In the platform, there will be a separate currency that is nCash to be used for data exchange. Money is required to provide an appreciation to each data provider and customer. Allowing data sharing within the platforms shows that ecosystems have been decentralized.
In the future, the IoT solution will reach on residential and industrial security systems. The IoT intelligent sensor can be a much-needed tool as a security solution. IoT can be used for commercial, residential, and industrial. The development of IoT can identify potential threats, including intruders and disasters. The data blocking network can be used as a safeguard of data transmission to authorized parties.
The Convenience To Be The One Of Nucleus Ecosystem Member
The development and research of the Nucleus team have been going on for the past three years. For the realization of a sensor technology that can overcome all the deficiencies contained in retail technology. ION Sensors do not use any enhancements like Bluetooth or Wifi in identifying anyone who is near the core sensor.
With all the technologies that are developed, anyone who joins on the platform has its comfort amongst them:
The intelligent sensor technology applied can help retailers identify customers while interacting efficiently. Special offers from retail can be directly delivered to the customer via mobile phone. Nucleus has worked with the relevant authorities to draw up a framework of rules and privacy imposed by technology. That makes everyone unnecessary to install an app, or other connecting devices like GPS, WiFi, Bluetooth, etc. The applied technology will automatically work on all smartphones.
Nucleus performs a customer identification system with IoT practices. Each sensor layer has a sufficient integration. Technology is supported by top technology providers such as Radysis, ODM, Intel, and telecom operators. Once the data is processed in the Neuron layer, retailers can obtain data that can be useful for business development through improved customer and retail management system improvements.
Retrieving customer data allows retailers to offer different offers to each customer. Grouping can be tailored to the accumulated product most purchased by a customer in a given period. The right proposal can provide each customer particular interest to keep shopping in retail.
Customers can receive special offers from retail because every customer who comes directly can be identified. Store customers usually never receive special offers because offline stores are less competent to identify every customer who shopped at the store.
The nCash token provided by the retailer to the customer. nCash can be redeemed for retail products or services. With nCasuah can lead to monetization of customer shopping data.
The variety of conveniences offered by Nucleus further convinces every retailer to join the ecosystem. Any services provided will make it much easier for customers to get offers. Identifying subscriber without interfaces is also very useful because not all customers want to install the app or enable a connecting device while visiting the store. There are the workings of the system that offered.
First, the customer will enter the store. Then the ID automatically from the customer's phone will be identified by the ION sensor and send the customer's phone number into the Nucleus ecosystem.
Customer identification will be transferred to the retailer via blockchain. Customer mapping can be done by retailers and identification of new data can also be done by the system.
Once the platform receives the data, customers can get special offers and nCash that can be credited to the customer's account.
Each new customer will automatically log into the incentive network in the form of nCash for each network participant.
Each partner of the system will establish a rule concerning sharing customer data. If the customer data request is approved, then the recipient of the application may accept nCash as a shared data use incentive.
Customers can quickly receive data for nCash claims and receipts. When customers allow data sharing, blockchain can enrich each of the entities involved.
In the determination of tokens, resellers can see calculations from the number of customers entering the store, browsing the store and checkout.
In addition to awards, nCash tokens can also be used by customers as reward point loyalty in every retail partner in the core network.
ToOM ATOM liquefaction can be done on the crypto market with cash. Customers can also choose from the shopping experience to get nCash tokens. The data provided is also not shared with retail partners Nucleus.
Give contribution to Nucleus ICO as the developing the future technology is one of the signs to support the creation of a platform that refers to the integration of the world. The use of IoT's base can continue to evolve into all aspects of life with the smart concepts on offer. Each managed system is an implementation of the use of digital technology to facilitate every human activity including regarding income. Join Nucleus for ease of retail and IoT development.
There are links to get more information about Nucleus:
Posted by : kurniawan05