Jul 5 2018
Data is essential to compile valuable information. Data becomes the necessary material needed to process a wealth of information which will then be used for decision of policy. The need for data makes Opiria's digital platform engaged in sales and purchases of data. For example, a company needs consumer data to analyze the purchasing power of products produced for both goods and services. Existing data can pinpoint sales targets appropriately and match buyer needs. Each data has a high level of security so that only limited use of information is used for survey or analysis purposes only. Any personal data will be protected so that data misuse will not occur.
Companies around the world need personal data consumers to provide the best service to consumers. Opiria Platform will bridge consumers to deliver their data and provide benefits to consumers with some money. That means with the given personal data. The platform will provide reciprocity of the personal information provided. Personal data purchases can be made directly by the company to the consumer by redeeming some PDATA tokens. As a digital platform, Opiria uses a currency-like symbol that provides the value of personal data. Trading system also allows using Smart Contract in the blockchain. The relationship between consumers and companies can be established globally through the Opiria Platform. Opira will provide convenience and benefits for both parties. The Company will obtain accurate data and the consumer will earn from the data provided for the company.

Opiria platform can bring together millions of consumers from all over the world with companies from across the globe as well. Personal data will be provided safely, transparently and fairly, using blockchain technology. As a consumer, you also have the opportunity to choose which company you will sell the data. The platform will provide convenience for every consumer or company in data distribution. Payments with PDATA will be presented to consumers of each company using personal data of consumers. Any data provided is subject to consumer approval. Token PDATA will be used as a form of respect for the data consumers are given. Opiria still uses the General Data Protection Rules Guideline (GDPR) in running data exchange between consumers and companies. Get full information via whitepaper and ann thread.
Ann Thread: https://bitcointalk.org/index.php?topic=3076122
White Paper: https://www.opiria.io/wp-content/uploads/2018/01/PDATA%20White%20Paper%2020180118.pdf
Why Companies Need Consumer Data?
Every company needs to be able to survive in the market by providing products that benefit consumers. The question is how do companies know what consumers need? To understand that every company would need consumer data. Personal data can help companies to create innovative products and services that suit everyone's needs. With consumer data, companies can also precisely define their marketing targets. The right target can also help the company to stay active for the income. The company also competes with emerging new companies to contribute in providing services to consumers.
A few moments ago some operations provided data unethically so that the consumer data needed to get protection. Providing data with consumer approval will undoubtedly facilitate the company in obtaining more accurate data. Consumers who consent to some data will maintain the privacy of data and compensate consumers. Companies that need data can join the Opiria Platform because this platform will reward consumers with the data provided. PDATA will be a form of compensation that will be presented to every consumer. The platform will maintain data confidentiality and offer bridges to both parties to obtain data and compensation. Reflecting the rules against general data makes the provision of information can be made without having to violate the privacy of each consumer. Companies can obtain data for analysis purposes conveniently and accurately.
How does Opiria Platform Work?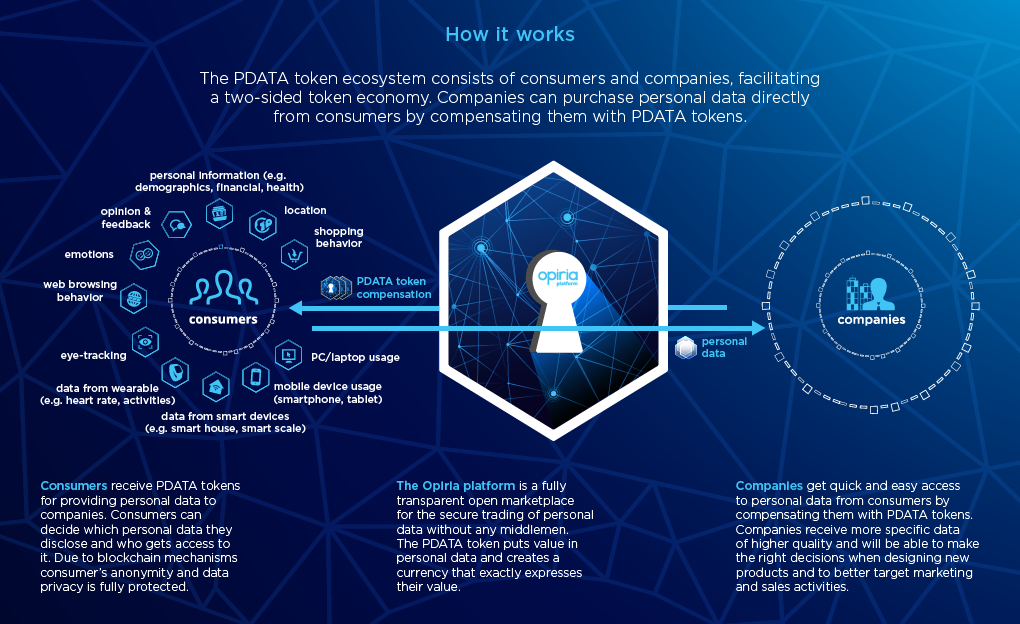 The presence of protection against personal data makes Opiria aware of the importance of data from each consumer. On the other hand, the company still needs personal data for business purposes. This condition makes Opiria has a role in protecting consumer data as well as provide a platform for consumers to share data required by the company. Opiria becomes an open market for data distribution that gives consumers the ease of controlling and choosing which companies can use their data. It will undoubtedly provide comfort to the consumers. Specific personal data provided can also be tailored to the needs of the company. Any data provided by consumers will give a reasonable amount of compensation from the company. Compensation is presented as a sign of approval of the use of personal data provided by consumers.
PDATA tokens become a form of appreciation given by the company to every customer who provides data. Opiria will become a global market with a decentralized system for the purchase of personal data without intermediaries. Companies can directly obtain personal data from consumers. Every consumer associated with the platform can provide their data by filling out the profile. Consumers also have access to offer data limits that can be accessed by the company. Data that can be obtained and which can not even be quickly set. Any data disclosed to the platform can be sold to the company with the consent of the consumer. Thus the consumer can know which companies are using their data. When the consumer agrees to provide some data, the consumer will get some PDATA tokens as a form of legitimate payment. When payment has been made, the company may obtain the necessary personal data.
The Utility of Token PDATA As an Award to The Consumers
Opiria platforms are the safest place to run personal data trading and provide appropriate rewards to consumers. Transparent trading can be an advantage of the platform so that every consumer who provides data can quickly identify the company that bought the data. Payouts with PDATA Tokens make consumers appreciated with respect and honor. The availability of utilities can be realized with the enactment of PDATA Token. Companies that need personal virgin can purchase PDATA tokens first. After that, the company can buy data from consumers directly through the platform by sending surveys. When the consumer has earned a PDATA Token, the consumer has sold personal data to the company and joined the study. Requests from personal data may be accepted by consumers who already have some PDATA tokens first.
For companies, tokens can be a form of purchasing data from consumers coming from a database with a token PDATA. Companies can spend all tokens owned to send surveys to consumers directly. Through surveys, consumers will have provided specific personal data with PDATA tokens. Consumers will receive PDATA tokens as a result of the sale of personal data. PDATA tokens can be used by consumers to continue to join the survey. Consumers entering the platform can have full control over the data provided. The platform will provide full protection of data and privacy shared with both platforms and companies. Every consumer who joins the ecosystem also obtains a reasonable compensation guarantee.
The system of awarding some PDATA tokens to each participating consumer will make everyone willing to provide personal data. With the Opiria platform, the company will obtain accurate personal data so that decisions taken to conduct the survey can be determined appropriately. Opiria allows companies to get data quickly and qualified. In some cases, companies can also specify more specific data. The accuracy of the data for the survey will support the company to achieve better targets. The Opiria platform will provide the best for consumers and companies incorporated in the ecosystem. Currently, you can also obtain some PDATA tokens through registration on the website.
Website: https://www.opiria.io
Whitepaper: https://Opiria.io/static/docs/Opiria-PDATA-Whitepaper.pdf
Twitter: Twitter.com/PDATA_Token
Get your Monetize Data with PDATA Token
Opiria can be a place that provides opportunities for accurately obtaining personal data. A decentralized system with a clear concept will help companies and consumers readily exchange data. Ease and comfort coupled with Smart Contract side keeping with PDATA Token. Token will be used as the currency of the platform to reward consumers. PDATA tokens also act as currency values that can reveal the importance of personal data. To provide consumers can monetize personal data owned. Opiria's concept includes ease in determining privacy to consumers to make decisions about data that can be accessed by the company. A globally decentralized market for securely and conveniently trading personal data will be realized with Opiria applying the concept of blockchain technology.
The purpose of Opiria is to provide an increase to the sale of tokens with the development of the Opiria ecosystem. Increased users can be done by providing concrete evidence of the benefits and income from the sale of personal data. To be able to introduce the platform globally, it needs to be presented to everyone to contribute data. The more people who participate will make it easier for companies to obtain precise and accurate data for business development. Opiria also has a target to get 27,000 subscribers by 2023. Market research will also include countries with the most relevant level around the world. To get the latest information, you can join social media from Opiria. You also make it possible to discuss platforms and meet many people.
Social Media:
https://www.facebook.com/pdatatoken/
The target of Consumer Achievement by Opiria
As a platform that moves in data sales, then Opiria needs to obtain data from consumers in an infinite amount. To collect accurate data, companies can make the data provided by consumers as the source of the survey. Giving many tokens to consumers is helping consumers earn revenue from data obtained. In 2018 Opiria will get 100,000 Consumer with 150 customers and nine sales partners. The increase will be done significantly with the target in 2023 with the number of 250 million consumers and 37 thousand customers and 50 sales partners. Significant progress will be made to maximize sales and revenue for customers who join the ecosystem.
Ecosystem development to get everyone to earn digital income. The digital platform will help everyone to facilitate profit earning. Digital tokens will help everyone be rewarded for any data they have. The moral of the company in obtaining accurate data will make every company able to analyze and decide the right policy. Opiria will play an important role to assist the company in taking the best steps through the survey. Smooth exchanges will be available with platform roles with global access and transparency. Support from the blockchain technology provided will help the platform continue to increase consumers so that the company's convenience to obtain accurate data following the needs. For more precise information, you can also send messages through web pages.
Get PDATA Token Immediately to Participate with the Ecosystem
Your participation can be done by gaining ease in getting profit. For you to participate, then you need to purchase some tokens through the website page. The token can be acquired through website pages with PDATA price starting USD 0.10. Token sales will end until July 14, 2018, so it will make it easier for you to earn revenue. Earn up to 15% bonus by immediately joining the ecosystem. Contributions may be made under the applicable law. Contributors must also complete some documents to verify KYC (Know Your Customer) and AML (Anti Money Laundering). Any information submitted will be the fundamental data of verification. Verification results will also be provided via email you specify.
The number of tokens available will be limited, so you need to join the token sales event immediately. The purchase of token begins with Ethereum intending to being converted into a blockchain token shape that is in the future. The use of tokens will be beneficial for the future so you should consider buying tokens right now. The token collected will be distributed following Opiria Smart Contract. Token PDATA will be unlocked 30 days after TGE. Then the bonus will open 30 days after unlocking the main tokens. Immediately contribute with Opiria to earn income from personal data you provide. The use of blockchain technology is the main thing to gain ease and speed of transactions. You will be faced with the use of technology that can support transparent transactions so you can find out what the company needs data. Besides, companies that buy your data can also be readily known to you.